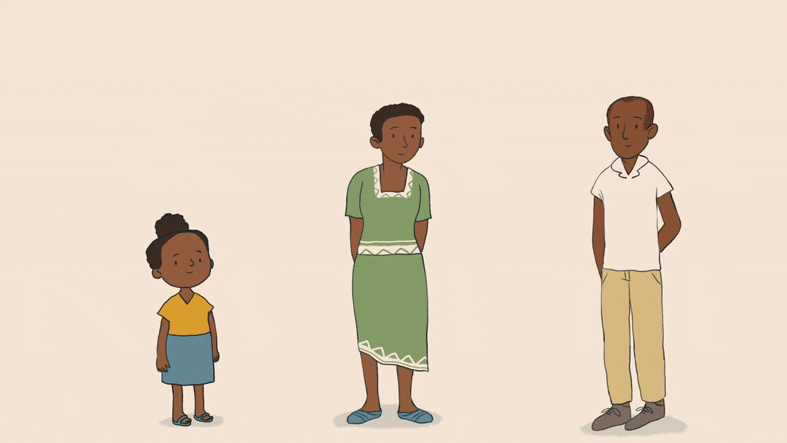 In May 2021, I was approached by illustrator Sophie Powell-Hall to help her create a 3:30 video for the Chami research group and ICMS Edinburgh for presentation at the Edinburgh Science Festival later in 2021. The film describes the relationship between mathematics and developing pharmaceuticals to treat worms in Africa. The animation is one part of a larger project for the presentation at the science festival, it would be screened along side a filmed Q+A from a pre-recorded audience and Goylette Chami herself. The original audience was children and then, once completed in its entirety the film would be screened to a universal audience. This meant that we had to choose a simplistic way to convey the information but not overly simplify the material either. 
For this project I was just the animator. Sophie storyboarded and illustrated the film and I animated her illustrations. It was very free and the client were happy to allow me to take the illustrations in the direction I felt fit. The concept for the animation was to use it sparingly, just enough to hold the audience's engagement and aid the point being illustrated. Sophie's illustrations did most of the leg work. I was involved in consulting on how best to transform the material into animation and that meant I was involved from the script writing stage helping to choose wording that lent to motion on the screen and offered points for transformation. It also helped me offer Goylette advice on how best to record audio for animation.
I used adobe after effects for all the animation created for this animation. This allowed me to complete this project within its tight deadline. In total it took me 4 days to complete all the animation work for this project. This project is a fantastic example of how little animation is necessary to create a beautiful, engaging film. 
​​​​​​​​​​​​​​
Client:
ICMS Edinburgh, Chami Research Group
Software:
Adobe After Effects